Sofia Village is a small, comfortable hotel, built with special care, offering a pleasant stay and answering all the expectations of a traveler in the Cyclades. The hotel is built on the outskirts of Mykonos town, in the area known as the Fine Arts School (400m from the town) Guests may relax in the lovely garden that surrounds the building; other available amenities are a sunny breakfast room with veranda, television, and telephone. Buses taking guests to several wonderful beaches are only a short walk from the hotel.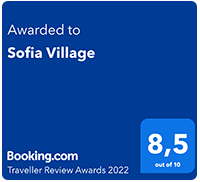 The rooms and studios have a magnificent view of the Aegean Sea, the colorful landscape and the neighbouring islands. All rooms have TV, mini fridge, private bathroom with shower or bath. The studios have a kitchenette. The rooms have individually controlled air conditioning unit. The family atmosphere of Sofia Village and the Traditional Mykonian hospitality are bound to leave an enduring impression and pleasant memories.
Best price and quality guarantee
Free Parking lot
Big swimming pool with sunbeds
Sofia Village is located within a walking distance from the centre of Mykonos Town, the capital of the island. This is actually the biggest and most popular village on the island and most activities are concentrated there. Mykonos Town has everything you may need in your holidays, from clubs and bars to interesting museums.